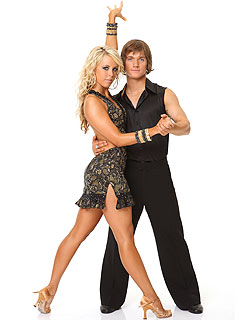 Louie's second blog post for People Magazine online expresses his frustrations with learning an entirely new sport, but also, more importantly, his improvement and enthusiasm. After flying to Park City, then to Chicago, and back to L.A., the couple has had a crazy week of practicing, especially now that it's "crunch time." With less than a week before the season premiere, you can bet that Chelsie is pushing him hard, with or without Olympic photo shoots to attend. Here's what Louie has to say about his progress:
Dancing for me is coming along. Every day I feel like I am progressing and getting better. I am not going to lie though; I have had many frustrating moments. The one thing that dancing is teaching me, which I never thought I would learn, is how to deal with frustration. I am a competitive person, in ANY sport I do. What I am realizing is, I can't expect to be an amazing dancer overnight. Although I think I am doing better than a lot of people would have expected, I have to understand that I am not going to be Derek Hough in just a few weeks. OK, I can never be a Derek Hough.

It is crunch time and now I am ready to step it up. Finally, I have all the steps down and it is now time to fine tune them and add a little extra flare. Moving my hips more in the salsa, watching what my hands do, getting my posture on point for the foxtrot and so on, will be my focus this week. Yes, I am not going to lie, I am nervous for the first show. How can I not be? I am doing something I am not comfortable with in front of the world on live TV. On the flip side, I am excited to get it going. I have been dancing every day, learning and listening for three weeks now and I am ready to show everyone what I can do. Whatever happens this first week, I have had more fun than I ever thought I would.
Read the rest of what Louie had to say. (full article)
Tags: blog, dancing, DWTS, from Chelsie, louie